Welcome
Is your website Ranked on the first page of Google?
If not – you are losing money, plain and simple!

ight now people – in your area – are searching the Internet for a business just like yours. Did you know that?
Did you know that the Internet is rapidly replacing the Yellow Pages when customers search for local businesses? Don't you think you should Let those customers find YOU – instead of your competition?
If you want to thrive in today's troubled times, you need to be noticed. Right? So you need a good website that ranks high in the S.E.R.P.'s And not just any old website will do either.
You need a Direct Response Website that will:
Turn potential customers into brand new Paying Customers
Bring back your existing customers for more
Put YOUR business in front of targeted clients
Have high conversion rates
This list can go on and on and o…
A direct response website is a tool that can make Your Business Money in a whole variety of ways. If your website is not producing this type of result or, worse yet, if you don't even HAVE a website, you are losing money plain and simple.
It doesn't matter if you are a Plumber, Carpenter, Restaurant Owner, Hair Stylist, Dog Groomer or an Accountant. Customers expect you to have a web presence and you shouldn't have to lose those customers when getting a website that tops the Search Engines is so Inexpensive and Easy!
Imagine how it would feel to have 20 new customers coming in every day from an online marketing weapon that is set up for you on auto-pilot. That's why…
Your Business Needs To Be Ranked On The Front Page Of The Search Engines!
This is a problem for many small businesses. They have a friend, relative or even get a web designer to build them a website, but then they don't help at all with the marketing of it! You could have the greatest site in the world, but if nobody can find it, it's not going to do you much good!
So I design your site from the beginning to rank high in the search engines and that is going to get you more business.
Take a look at just one of my client websites. Out of over 5 MILLION results relating to Restaurants in her area, the site is ranked #1 in Yahoo…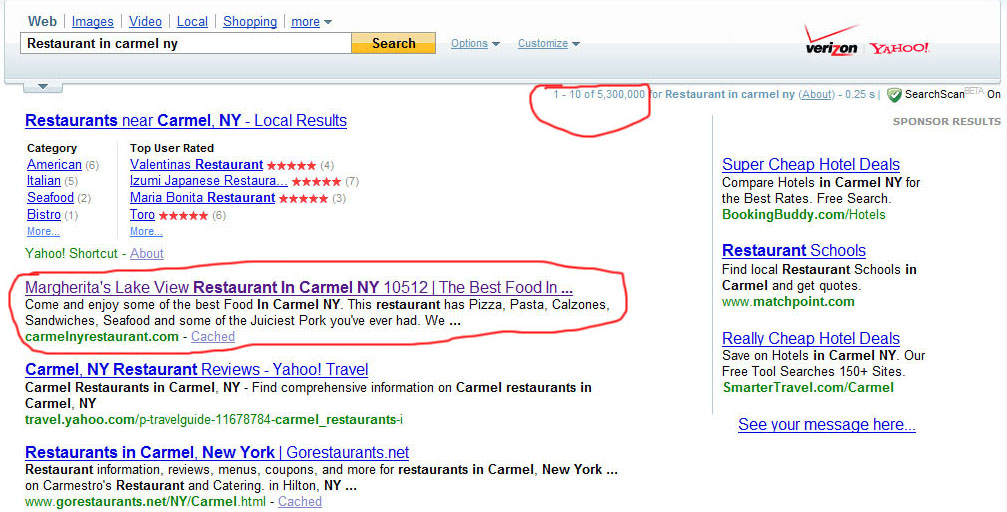 And a GOOGLE Search?..

Those are real results!
Think of that warm feeling you'll get when you count out that extra cash each day and know it's all net profit that you can spend on you and your family.
That's what Carmel Website Design can do for you!!
I will build you a Custom Direct Response Website from scratch or Re-Design your existing site and turn it into a Marketing Website that leaves your competition scratching their heads saying "how'd they Do THAT"!
Page 1 of 4 | Next page